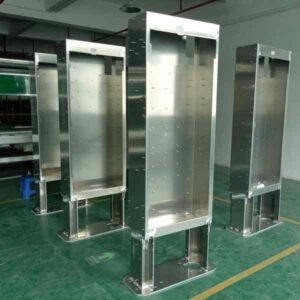 With the emergence of new energy vehicles, charging piles also appeared, from the beginning of the plastic shell to now gradually converted to aluminum alloy shell, the most important factor is the high strength performance of aluminum alloy. The use environment of charging pile is complicated, if it is used in low temperature area, using aluminum alloy shell can effectively avoid shell cracking. The use of aluminum alloy shell can effectively reduce the accidents of charging pile and improve its service life.
Another important reason for using aluminum alloy as the main application material of charging post shell is its anti-corrosion property. New energy charging piles have started to be used worldwide, with different environments and regions of use. In many coastal environments, charging posts are subject to the corrosive effects of UV light and salt spray. If you choose a charging post with a common housing, corrosion can easily occur and damage the internal electronics. Unlike aluminum alloy shell, its surface will form a solid oxide layer after contacting with air. This oxide layer is very resistant to corrosion, which can protect the power supply inside the charging post on the one hand and provide convenience for users on the other, which makes the application of aluminum alloy shell more and more widespread.
A frequent phenomenon when using charging piles is the maintenance problem of internal electronic components. When replacing the internal components, if the external shell is accidentally damaged, if it is an ordinary plastic shell, once it is damaged, it can no longer be used, and the cost is relatively high. The aluminum alloy shell can be replaced in time, and the damaged product can be recycled, which not only saves cost, but also plays the role of reuse of resources, and plays a good role in protecting the environment.
Custom Metal Box Manufacturers | Custom Sheet Metal Enclosures | Custom Aluminum Box | Custom Sheet Metal Boxes | Custom Metal Boxes | Sheet Metal Supplier | Steel Box Manufacturers | Sheet Metal Box Manufacturers | Custom Made Metal Boxes | China Sheet Metal Manufacturer | Outdoor Vending Machine Enclosures | Industrial Machine Enclosures | Metal Enclosures for Electronics | EV Charger Outdoor Enclosure | Outdoor EV Charger Enclosure | EV Charger Enclosure | Custom Aluminium Box | Custom Steel Box | Metal Box Supplier | Metal Enclosure Manufacturer | Sheet Metal Enclosure Manufacturers | Metal Enclosure Box Manufacturer | Metal Enclosure Manufacturer | Aluminium Box Manufacturer | Outdoor Equipment Enclosures | Aluminium Box Manufacturers | Equipment Enclosures Metal | Metal Enclosure Box | Metal Enclosure | Enclosure Box Price | Sheet Metal Manufacturers | Sheet Metal Manufacturing companies | Custom Made Aluminium Boxes | Custom Made Metal Box | Aluminum Sheet Metal Fabrication | Aluminium Sheet Metal Fabrication | Auminium Tool Boxes Made to Order | Custom Metal Enclosures | Custom Stainless Steel Box | Custom Made Aluminum Boxes | Metal Box Manufacturers | Custom Steel Enclosures | Custom Stainless Steel Enclosures | Custom Metal Box | Custom Aluminium Box | Sheet Metal Fabrication Supplier | China Sheet Metal Fabrication | Custom Sheet Metal Fabrication | Sheet Metal Fabrication Services | Metal Manufacturing in China | Aluminum Box Fabrication | Sheet Metal Box Fabrication | Sheet Metal China | Precision Sheet Metal Fabrication | Custom Aluminum Box Fabrication | Custom Metal Box Fabrication