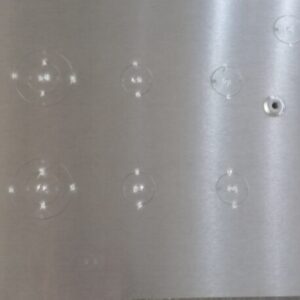 The technical personnel engaged in sheet metal chassis processing generally have high overall quality and must have certain organizational and management skills. The personnel who direct and lead the installation work in machinery and equipment installation projects are generally technical personnel with theoretical and practical experience from sheet metal work. From the above description, we can see the importance and practicality of sheet metal technology. Sheet metal chassis processing will generally involve the following processes:
Assembly Process: The common assembly methods are ground-like assembly method, profiling assembly method, horizontal, vertical and inverted assembly method.
Undercutting process: It is in accordance with the finished release pattern on the wool material for undercutting, usually adopted parties are: manual shear, mechanical shear, punching processing, plasma gas cutting and laser cutting. The selection can be made according to different technical requirements, the size of the batch and the cost. Different undercutting methods, according to the drawing undercutting processing residual material and other factors will have different choices.
Forming Process: Forming process is one of the most critical aspects of sheet metal processing, which plays a vital role in designing requirements, improving processing efficiency and product quality, and reducing costs.
Forming processes include: manual forming, mechanical forming, top press forming, etc. Among them, manual forming is the basic skill that traditional sheet metal workers must master; while mechanical forming is the most commonly used process at present, which realizes the forming of sheet metal workpieces through roll bending equipment, press bending equipment and molds, roll forming equipment and molds, and tube bending equipment and molds. Forming method is different, according to the drawing down the length of the material is not the same, should be considered. Too much material is wasted and costly, and sometimes it makes processing difficult; not enough material will cause scrap. The technology of processing and forming is the key to ensure product quality and improve work efficiency.
Custom Metal Box Manufacturers | Custom Sheet Metal Enclosures | Custom Aluminum Box | Custom Sheet Metal Boxes | Custom Metal Boxes | Sheet Metal Supplier | Steel Box Manufacturers | Sheet Metal Box Manufacturers | Custom Made Metal Boxes | China Sheet Metal Manufacturer | Outdoor Vending Machine Enclosures | Industrial Machine Enclosures | Metal Enclosures for Electronics | EV Charger Outdoor Enclosure | Outdoor EV Charger Enclosure | EV Charger Enclosure | Custom Aluminium Box | Custom Steel Box | Metal Box Supplier | Metal Enclosure Manufacturer | Sheet Metal Enclosure Manufacturers | Metal Enclosure Box Manufacturer | Metal Enclosure Manufacturer | Aluminium Box Manufacturer | Outdoor Equipment Enclosures | Aluminium Box Manufacturers | Equipment Enclosures Metal | Metal Enclosure Box | Metal Enclosure | Enclosure Box Price | Sheet Metal Manufacturers | Sheet Metal Manufacturing companies | Custom Made Aluminium Boxes | Custom Made Metal Box | Aluminum Sheet Metal Fabrication | Aluminium Sheet Metal Fabrication | Auminium Tool Boxes Made to Order | Custom Metal Enclosures | Custom Stainless Steel Box | Custom Made Aluminum Boxes | Metal Box Manufacturers | Custom Steel Enclosures | Custom Stainless Steel Enclosures | Custom Metal Box | Custom Aluminium Box | Sheet Metal Fabrication Supplier | China Sheet Metal Fabrication | Custom Sheet Metal Fabrication | Sheet Metal Fabrication Services | Metal Manufacturing in China | Aluminum Box Fabrication | Sheet Metal Box Fabrication | Sheet Metal China | Precision Sheet Metal Fabrication | Custom Aluminum Box Fabrication | Custom Metal Box Fabrication | Sheet Metal Manufacturing | Metal Manufacturing Company | Metal Bending Services