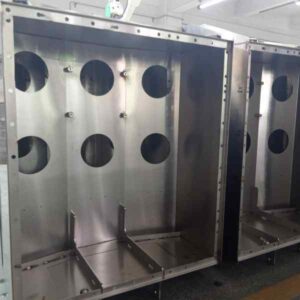 Laser cutting is currently a very common technology on metal sheet processing, the principle of processing is through the laser to generate a high-energy laser beam and gathered on the surface of the metal material, can make the plate is irradiated and quickly melted, played a cutting effect. The CNC punching machine is a kind of automatic machine tool equipment controlled by computer program. The CNC punching machine has a great improvement in the accuracy of cutting and also reduces the cost, only need to use a simple mold to match to complete most of the work. But compared with laser cutting, the efficiency of CNC punching machine on the short board. The following are the advantages of laser cutting:
One, can be a variety of metal sheet cutting process, especially for the 2 cm below the metal plate cutting has obvious efficiency.
Second, even if the graphics requirements are very complex, only need to draw in advance on the computer, into the system, then cutting up no problem.
Third, the laser is particularly accurate in cutting, and the thermal deformation is small, non-contact processing, the surface almost no secondary polishing work.
Fourth, the high technology content, the use of only electricity and auxiliary gas.
Fifth, the use of environmental protection, and no noise pollution, and will not have any pollutants on the surrounding environment.
Dongguan Jiatong Precision Hardware Products Co., Ltd. has more than one CNC punching machine and laser cutting machine, and can choose the sheet metal production tools according to the customer's requirements, as much as possible the customer's requirements for the product, if you are looking for such a sheet metal manufacturer, a good choice is Jiatong, welcome to consult.
Custom Metal Box Manufacturers | Custom Sheet Metal Enclosures | Custom Aluminum Box | Custom Sheet Metal Boxes | Custom Metal Boxes | Sheet Metal Supplier | Steel Box Manufacturers | Sheet Metal Box Manufacturers | Custom Made Metal Boxes | China Sheet Metal Manufacturer | Outdoor Vending Machine Enclosures | Industrial Machine Enclosures | Metal Enclosures for Electronics | EV Charger Outdoor Enclosure | Outdoor EV Charger Enclosure | EV Charger Enclosure | Custom Aluminium Box | Custom Steel Box | Metal Box Supplier | Metal Enclosure Manufacturer | Sheet Metal Enclosure Manufacturers | Metal Enclosure Box Manufacturer | Metal Enclosure Manufacturer | Aluminium Box Manufacturer | Outdoor Equipment Enclosures | Aluminium Box Manufacturers | Equipment Enclosures Metal | Metal Enclosure Box | Metal Enclosure | Enclosure Box Price | Sheet Metal Manufacturers | Sheet Metal Manufacturing companies | Custom Made Aluminium Boxes | Custom Made Metal Box | Aluminum Sheet Metal Fabrication | Aluminium Sheet Metal Fabrication | Auminium Tool Boxes Made to Order | Custom Metal Enclosures | Custom Stainless Steel Box | Custom Made Aluminum Boxes | Metal Box Manufacturers | Custom Steel Enclosures | Custom Stainless Steel Enclosures | Custom Metal Box | Custom Aluminium Box | Sheet Metal Fabrication Supplier | China Sheet Metal Fabrication | Custom Sheet Metal Fabrication | Sheet Metal Fabrication Services | Metal Manufacturing in China | Aluminum Box Fabrication | Sheet Metal Box Fabrication | Sheet Metal China | Precision Sheet Metal Fabrication | Custom Aluminum Box Fabrication | Custom Metal Box Fabrication | Sheet Metal Manufacturing | Metal Manufacturing Company | Metal Bending Services