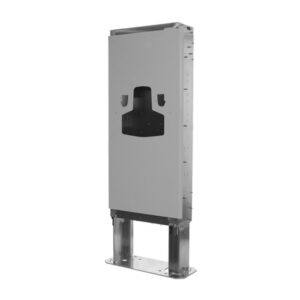 The following are the main steps in the production of charging pile box shell by sheet metal processing factory.
1、Choose cold rolled plate for precision laser cutting and marking according to the designed sheet metal processing drawing, cut into the shape of the charging pile case plane unfolding.
2、According to the drawing charging pile shell pressure riveting, the main pressure riveting has different specifications of nuts, screws, and some are directly nailed on with the method of stamping nails directly.
3、According to the drawing charging pile shell CNC bending, accessories bending, etc.; its processing needs to use the bending bed and the corresponding bending mold to complete, bending and riveting process has a relationship, the general situation is the first pressure after bending, but some sheet metal material riveting interference to bending so we need to first fold after pressure.
4、According to the drawing, the whole box of charging pile shell is welded into shape, welding with argon arc welding, CO2 welding, laser welding, etc.
5、The welded charging pile case, door plate, etc. is the surface spraying process, many sheet metal manufacturers have their own electrostatic powder coating workshop, so the surface spraying treatment control is better.
6、After spraying, the charging pile box is the whole box for assembly, mainly the bracket, yuan accessories, door lock, waterproof rubber, etc.
7,、all assembled is to test, drenching, etc., the final protection packaged good.
Custom Metal Box Manufacturers | Custom Sheet Metal Enclosures | Custom Aluminum Box | Custom Sheet Metal Boxes | Custom Metal Boxes | Sheet Metal Supplier | Steel Box Manufacturers | Sheet Metal Box Manufacturers | Custom Made Metal Boxes | China Sheet Metal Manufacturer | Outdoor Vending Machine Enclosures | Equipment Enclosures | Machinery Enclosures | Machine Enclosure | Machine Enclosures | Industrial Machine Enclosures | Metal Enclosures for Electronics | EV Charger Outdoor Enclosure | Outdoor EV Charger Enclosure | EV Charger Enclosure | Custom Aluminium Box | Custom Steel Box | Metal Box Supplier | Metal Enclosure Manufacturer | Sheet Metal Enclosure Manufacturers | Metal Enclosure Box Manufacturer | Metal Enclosure Manufacturer | Aluminium Box Manufacturer | Outdoor Equipment Enclosures | Enclosure for EV Charger | EV Charging Enclosure | EV Charger Enclosure | Aluminium Box Manufacturers | Equipment Enclosures Metal | Sheet Metal Enclosure | Metal Enclosure Box | Metal Enclosure | Enclosure Box Price | Sheet Metal Manufacturers | Sheet Metal Manufacturing companies | Custom Made Aluminium Boxes | Custom Made Metal Box | Aluminum Sheet Metal Fabrication | Aluminium Sheet Metal Fabrication | Auminium Tool Boxes Made to Order | Custom Metal Enclosures | Custom Stainless Steel Box | Custom Made Aluminum Boxes | Metal Box Manufacturers | Custom Steel Enclosures | Custom Stainless Steel Enclosures | Custom Metal Box | Custom Aluminium Box