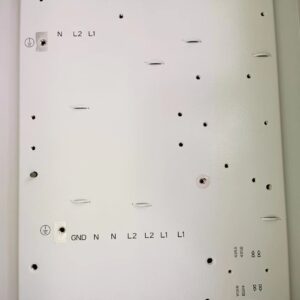 Now many shells are made of aluminum alloy, rather than the use of non-metallic materials to do, because the aluminum shell is more durable and has a better heat dissipation effect, so the aluminum shell custom manufacturers are constantly improving their quality, both to achieve beautiful and good mass production. But sometimes the aluminum shell in the process of processing will appear bumpy ripple phenomenon, what is the cause of this? How to solve? The following I will address this issue to introduce you.
1, the aluminum extrusion die length ratio or cavity size design error, flow ratio is seriously out of balance.
Solution: Paying attention to the design of the aluminum housing and manufacturing qualified aluminum extrusion dies is the key. The die factory must eliminate manual die processing defects.
2, the work of aluminum extrusion die has obstruction angle and flow promotion angle. The gap between the upper and lower die working belts is very poor, the working belts are not parallel, and the upper die resistance flow meter in the extrusion cavity is too high to block the discharge or drainage slot of the working belt. The empty blade on the outside of the working belt of the extrusion die is too little or too big.
Solution: The wave is serious, aluminum products by repairing the die, replace the die and return for processing.
3. The support pad is too small to block, and there is about 1m wave at the end of the aluminum profile (pressed into the V3 volume of aluminum).
Solution: The support pad was reasonable and discharged smoothly. The excess thickness creates about 1m at the end, which will reduce the extrusion speed. Or as a chuck for stretching. During the production of aluminum material, scraping due to the small die drop knife or the flow rate of the aluminum profile can be found. It is possible to quench and lubricate and condition the oil at the small side die work belt and the wiper side die pad. Pay attention to the inspection of the friction surface.
4. The smoothness of the new or repaired aluminum extrusion dies differs due to the unevenness of the sanding belt polishing belt in the die factory.
Solution: When a new or repaired die starts to extrude with waves, you can extrude a rod at a lower temperature and lower speed, and you can pause the middle rod several times to re-extrude. The goal is to fill the work strip with sticky metal and sometimes the waves disappear naturally.
Custom Metal Box Manufacturers | Custom Sheet Metal Enclosures | Custom Aluminum Box | Custom Sheet Metal Boxes | Custom Metal Boxes | Sheet Metal Supplier | Steel Box Manufacturers | Sheet Metal Box Manufacturers | Custom Made Metal Boxes | China Sheet Metal Manufacturer | Outdoor Vending Machine Enclosures | Industrial Machine Enclosures | Metal Enclosures for Electronics | EV Charger Outdoor Enclosure | Outdoor EV Charger Enclosure | EV Charger Enclosure | Custom Aluminium Box | Custom Steel Box | Metal Box Supplier | Metal Enclosure Manufacturer | Sheet Metal Enclosure Manufacturers | Metal Enclosure Box Manufacturer | Metal Enclosure Manufacturer | Aluminium Box Manufacturer | Outdoor Equipment Enclosures | Aluminium Box Manufacturers | Equipment Enclosures Metal | Metal Enclosure Box | Metal Enclosure | Enclosure Box Price | Sheet Metal Manufacturers | Sheet Metal Manufacturing companies | Custom Made Aluminium Boxes | Custom Made Metal Box | Aluminum Sheet Metal Fabrication | Aluminium Sheet Metal Fabrication | Auminium Tool Boxes Made to Order | Custom Metal Enclosures | Custom Stainless Steel Box | Custom Made Aluminum Boxes | Metal Box Manufacturers | Custom Steel Enclosures | Custom Stainless Steel Enclosures | Custom Metal Box | Custom Aluminium Box | Sheet Metal Fabrication Supplier | China Sheet Metal Fabrication | Custom Sheet Metal Fabrication | Sheet Metal Fabrication Services | Metal Manufacturing in China | Aluminum Box Fabrication | Sheet Metal Box Fabrication | Sheet Metal China | Precision Sheet Metal Fabrication