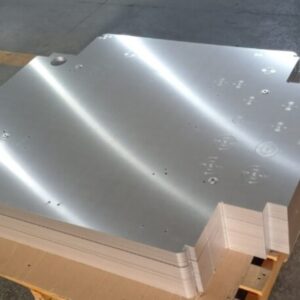 Carbon steel: This material gives better results when cut with oxygen. When using oxygen as the process gas, the cut edges will oxidize slightly. For plates up to 4 mm thick, high pressure cutting can be performed with nitrogen as the process gas. In this case, the cutting edge will not be oxidized. For plates with a thickness of 10 mm or more, the use of a special pole plate for the laser and the application of oil to the surface of the workpiece during processing can give better results.
Stainless steel: Oxygen is required for cutting stainless steel. If the oxidation of the edges does not matter, nitrogen is used to obtain an oxidation-free and burr-free edge, and no further treatment is required. Coating oil film on the surface of the plate will get a better perforation effect without reducing the processing quality.
Aluminum: Despite the high reflectivity and thermal conductivity, aluminum up to 6mm thick can be cut, depending on the alloy type and laser capability. When cutting with oxygen, the cut surface is rough and hard. When cutting with nitrogen, the cutting surface is smooth. Pure aluminum is very difficult to cut because of its high purity and can only be cut when the system is equipped with a "reflection absorption" device, otherwise the reflection will destroy the optical components.
Titanium: Titanium plates are cut with argon and nitrogen as process gases, other parameters can be referred to nickel-chromium steel.
Copper and brass: both materials have high reflectivity and very good thermal conductivity, brass up to 1 mm thick can be cut with nitrogen; copper up to 2 mm thick can be cut, the processing gas must be oxygen. Copper and brass can be cut only if the system is equipped with a "reflection absorption" device. Otherwise the reflections will destroy the optical components.
Synthetic materials: When cutting synthetic materials, keep in mind the dangers of cutting and the possible emission of hazardous substances, the synthetic materials that can be processed are: thermoplastics, thermosetting materials and artificial rubber.
Custom Metal Box Manufacturers | Custom Sheet Metal Enclosures | Custom Aluminum Box | Custom Sheet Metal Boxes | Custom Metal Boxes | Sheet Metal Supplier | Steel Box Manufacturers | Sheet Metal Box Manufacturers | Custom Made Metal Boxes | China Sheet Metal Manufacturer | Outdoor Vending Machine Enclosures | Industrial Machine Enclosures | Metal Enclosures for Electronics | EV Charger Outdoor Enclosure | Outdoor EV Charger Enclosure | EV Charger Enclosure | Custom Aluminium Box | Custom Steel Box | Metal Box Supplier | Metal Enclosure Manufacturer | Sheet Metal Enclosure Manufacturers | Metal Enclosure Box Manufacturer | Metal Enclosure Manufacturer | Aluminium Box Manufacturer | Outdoor Equipment Enclosures | Aluminium Box Manufacturers | Equipment Enclosures Metal | Metal Enclosure Box | Metal Enclosure | Enclosure Box Price | Sheet Metal Manufacturers | Sheet Metal Manufacturing companies | Custom Made Aluminium Boxes | Custom Made Metal Box | Aluminum Sheet Metal Fabrication | Aluminium Sheet Metal Fabrication | Auminium Tool Boxes Made to Order | Custom Metal Enclosures | Custom Stainless Steel Box | Custom Made Aluminum Boxes | Metal Box Manufacturers | Custom Steel Enclosures | Custom Stainless Steel Enclosures | Custom Metal Box | Custom Aluminium Box | Sheet Metal Fabrication Supplier | China Sheet Metal Fabrication | Custom Sheet Metal Fabrication | Sheet Metal Fabrication Services | Metal Manufacturing in China | Aluminum Box Fabrication | Sheet Metal Box Fabrication | Sheet Metal China | Precision Sheet Metal Fabrication | Custom Aluminum Box Fabrication | Custom Metal Box Fabrication